« One night in Bangkok | Main | Jungle Trekking, Chiang Mai »
September 22, 2003 : Koh Samet


Relaxing on Koh Samet, bathing in 28 degrees hot oceanwater, drinking beer on the beach and just take it easy...
19/9

After a shower, I packed my gear and walked around the wat to get to Khao San Road. Walked along it, looking for a place called Lava bar, where the other guys where supposed to be waiting for me (I was just a minute or so late... =). Suddenly I heard someone calling my name, and luckily for me, it was Frank and Anders that recognized me - I had been smart enough to tell them what I was wearing. That was really good, because the sign for Lava bar was completly impossible to see from the way I was coming, so had they not seen me, I would probarbly still be walking around Khao San Road looking for them...
Since noone of us had eaten breakfast (it was only 11 am :), we sat down at the nearest place where they served food, which on Khao San means a maximum of 2-3 metres away, and had ourselves a banana pancake and a cup of coffee. Tasted really good!
When we had eaten, we walked to a travel agency to get ourselves visas for Laos and Vietnam. We decided that we wanted to enter Vietnam the 13th of october, after a bit of jungletrekking in Chiang Mai (northern Thailand) and max 15 days in Laos. Since it was going to take 5 days to get our visas, we decided to head for Koh Samet for a couple of days, to see some of Thailands lovely beaches.

We took a taxi to the bus station and got a ticket to the village where boats to Koh Samet departs. Got on the 15.00 bus and did the mistake of accepting the drink they handed out for free. Ice cubes in it, you always hear that you should stay away from the ice. I tasted some of it and it wasn't very good either, so when the guy that handed out drinks didn't see me, I ran to the back of the bus to pour it out. One minute later he walked through the bus and picked up everyones drink, and I wasn't the only one that didn't like it. Bah.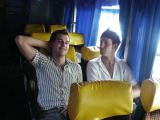 The bus made a stop in a village with a college, and suddenly the bus went from almost empty to overcrowded. I got two people sitting beside me, so the trip wasn't very comfortable...
We arrived at our destination about 3.5 hours later, which was according to schedule (!), and walked to the pier to get a boat over to Koh Samet. The price was 100 baht, for a round trip, but that was only if we were 20 people on the boat, if we weren't, we had to pay extra. They said that another bus from Bangkok would arrive in about 40 minutes, hopefully there would be enough people to fill up a boat coming then. We spent some time checking out the places to stay on the island, and decided to fix a place for the night right there, since it was dark already, and it's not too much fun walking around trying to find a place to sleep when you are tired and hungry. They tried to convince us that we should book for several nights right away, but we decided to just get one night, can't be that hard to find another place we thought. A good decision, as you will see later. After 20 minutes of waiting, they told us that if we just paid 50 baht extra, we could go to the island right away. Since we were in great need of food (we had only eaten that banana pancake so far), we paid them and jumped on the boat. The ride out to the island was a bit boring, since we couldn't see anything at all in the dark, good thing it only took about 30 minutes. When we got there, we jumped on the back of a truck to get a ride to our bungalow. After a short while, the car stopped and a guy in a uniform asked us for money, since we were going to enter a national park. The thai people on the taxi paid 20 baht. We foreigners had to pay 200 baht. Great.
A few minutes later the taxi stopped to let us off. We hope he had gone to the wrong place, but he had not...



After we had been welcomed to our bungalow by a few geckos, we headed to the nearest restaurant to get some supper. We paid 80 baht for a really good thai dish. Then again, it should be good, since it was really expensive. Usually it costs 40-50 baht... :)
When we finally had eaten our food, we walked along the beach and stayed at the only place with some people - the best place I have ever been on I think. Imagine yourself laying on the beach on a cushion, listening to the sound from the waves, staring up at the crown of a palm tree, with a beer in your hand, and nice people around you... absolutly brilliant.


A nice view on the beach

After a couple of beers we went back to our bungalow to get some sleep, but when I sweeped out some of the sand on the floor (I was sleeping on my inflatable mattress, the other two guys shared a double bed) I realised we had a neighbour, so I sat down to speak to her. It was a really nice 23 year old girl from Germany, called Anna, that was spending a few days in Thailand before she was going to Nepal. Neither of us was tired, so we decided to go and find ourselves a beer. After a really long walk in the rain on the beach, we found a place that was still open, and got ourselves a couple of beers before we headed back to our bungalow again. Got to bed around 4 am...


20/9

The next day I woke up at 12, so I skipped breakfast - the other guys had already eaten. We packed our gear and went out searching for another place to sleep, and found one just a short walk down the beach. It costed as much as the other one (600 baht for 3 people), but at least the place was a lot nicer and we could borrow an extra mattress to have on the floor. After some time of floating around in the ocean and a walk along the local shoppingstreet (well, that means the only street they have...) we took care of something we had decided to do that day - to become really drunk to get to know each other better. A bottle of thai whiskey and a bottle of Pepsi Blue was acquired to reach this state. At first we sat on the patio outside our bungalow drinking, but there was a lot of mosquitos there that completly ignored the fact that we had smeared ourselves full of anti mosquito cream, so we went down to the beach and drank instead. After an hour or so we went to a place nearby and had some dinner and a couple of beers. It started raining when we were done eating, so we went to a nice place and kept drinking there. After a while a couple of girls sat down at the table next to us, and we started talking to them. They were 23 years old and came from England, had been out traveling for a year and were going home in less than a week, so they had gone to Koh Samet to get some tan first. They were really nice, so we had a fun evening.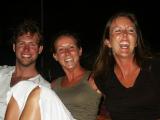 When they left us, we decided to head home as well, but took a stop at the beach and drank the last of our thai whiskey. Anders and Frank decided it was a very good idea to do some thai boxing in the darkness, so they started fighting right there on the beach. I tried to get some pictures of them, but it didn't work out very well... Probarbly had nothing to do with the amount of alcohol I had in my blood that evening... :)
When they were tired of fighting, we removed our clothes and did some skinny dipping in the ocean... very nice. After that we went back to our bungalow where we probarbly woke up all our neighbours before we went to sleep. A brilliant evening was it anyway!


21/9

We woke up at 12 o clock and went down to the beach to get some breakfast. Met the english girls, so Frank and Anders stayed there to get some sun. I went back to our bungalow to shave my head and so on. Just as I was done, the guys showed up to pick me up for a lunch date. After we had eaten, we explored the island a bit, walking down a lot of beaches.


Took a swim on one of them before we went back to our own beach, were we swam around for an hour or so. Then a quick shower before dinner, and then we tried to use Internet on "our" local internet cafe, but it was so slow there was no way in hell you could actually do something. Crap. Walked back home and read a book and then we went back to get a beer under the palm tree we stayed under the first evening on Koh Samet. A really soft day.


22/9

Woke up on a hard matress - it was my turn to sleep on the floor. Frank is not around and Anders is still asleep, so I went out on the patio and wrote a bit in my diary. When I had nothing more to write, I walked to the Internet cafe for a while before eating another banana pancake for breakfast. Sits down with the others on the beach, when Anna, the german girl, walks by. Decide to go with her and get a cup of coffee while she eats breakfast. Anders and Frank shows up after a while, they are going to walk to the west side of the island. We tag along and walks for like 30-40 minutes to get to the other side. Didn't see much interesting on the way, and the beach on the other side is a bit of a dissapointment, so we head back again. In much need of a bath after walking, we throw ourselves into the ocean again, before eating lunch. And then we spent some more time in the ocean. Life is so hard on you when you are on the road... :)

The other guys had set up a dinner date for us with the english girls, so we meet up with them and eat some food and have a couple of beer together. We spot a place a few metres away with cushions on the beach and a guy playing with fire sticks, so we go there and get another beer.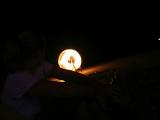 Then Anna and an american girl shows up, they were sitting in the bar at this place, so they join us on the beach instead.



They had been talking to the fire guy in the bar, so after a while, he shows up as well.




Some time during the night the english girls go home, since they are going back to Bangkok early the morning after, to do some (a lot of...) shopping. A bit later, Frank and Anders went home as well. I stayed and talked to Anna, the american girl and the thai guy for a while before heading home, after deciding to meet up the girls the morning after. A great last evening on Koh Samet.


Posted in: Thailand , Travel by mdk @ 7:27, September 22, 2003 | TrackBack