November 17, 2003 : Siem Reap



Angkor Wat might not be one of the seven wonders of the world, but that is only because the people that made the list didn't travel much.


Getting there

I had to get out of bed way to early in my opinion, to be able to catch the bus. At 05.30 I got up, at 06.00 I had breakfast, and at 06.30 I got on the bus from my hotel to the so called busstation. On the way over there, I see a guy riding on the back of an elephant - in the middle of the city, the capital of Cambodia. Doubt that happens very often in Stockholm... :)
I throw my backpack in the bus and enter it, taking the last free seat - just in front of the two swedish girls from Hanoi, Nha Trang and Saigon, and a couple of swedish guys they were traveling with. That wasn't quite as astonishing as it sounds though, since one of the reasons I booked a trip this day where that I knew they were going as well. Kinda funny that I got on that particular bus (there were several) and that the seat was just in front of them though...
The bus was filled with locals, us five swedes and six other foreigners. The road wasn't at all as bad as I had feared, just some parts of it that was total crap.

We arrived at about four, and were quickly hauled into a car and driven to a hotel. After a nap and a shower, we booked a motorbike tour around the Angkor area and then I went into town for dinner with the girls. When we get back to the hotel, I read up on the impressive history of the area, before falling asleep.



Sunrise over Angkor Wat

My alarm wakes me up at 04.20, and I crawl into the shower to wake up. Would have been more effective if the water was running though... I crawl back into the bed and sleep a few more minutes, and then I try the shower again. Much better!
At 5.00, we get on the back of our motorbikes and head for Angkor Wat. On our way over there, we buy tickets - $20 for one day, $40 for three days (not really expensive, but the sad thing is that the area is owned by a foreign oil company!). Since I plan to spend two days in the area, I pay them forty bucks, and then we hurry up on our way to the big temple. The others are just going to spend one day, and are because of this already half way there. That doesn't matter, cause I have the craziest driver... Nice guy though :)


Sometimes it's worth getting out of bed

We arrive outside Angkor Wat, joining every other tourist in the area - and there are a lot of tourists around here. I get my flashlight and walk towards the temple, trying to find a good spot to take photos. This is a lot harder than it sounds, because there are people everywhere, and they don't care at all that you want to take pictures. After a while I realise that the only way is to join everyone else that has stopped at a certain spot on the path. At least most people walk around this place, although some just keep on walking, making a lot of people slightly upset... :)

After taking about 30 pictures with different settings (thank god I got a camera with manual settings...) the sunrise is over, and we take a quick peek inside the next gates before heading back to our drivers. By now we are getting hungry, so we stop at a restaurant just outside the temple and have breakfast. The plan is to return in the afternoon instead, since there are so much people here in the morning.


Angkor Thom and more


Some big faces there

After breakfast, we head for Angkor Thom, which used to be the capital of the Khmer kingdom. Here you could find the royal palace and the residences of all the important people. The first temple we come to, which is in the middle of Angkor Thom, is The Bayon, a temple built about 100 years after Angkor Wat - and completly different. It has lots of reliefs and huge faces in all four directions in the 54 towers. It's regarded the second most important sight around here (after Angkor Wat of course), and when you see it it's easy to understand why.

After seeing most of the Angkor Thom area, we visit a bunch of other temples, among them Ta Prohm which is famous from the first movie about Lara Croft - this is the temple where the nature has taken over. We are a bit too fast according to the guides, so we head back to Siem Reap for some curries at the indian restaurant and an hour of sleep, before going back to Angkor Wat again.
The temple is amazing, and unfortunaly it's completly impossible to describe it in words or even pictures, you have to see it yourself. You just wander around wondering how much time and pain there really is behind all these carved stones...


| | | |
| --- | --- | --- |
| Do you dare enter? | Swedes in front of elephants... | Finally no jap in front of the tree! |
| That used to be a wall | A close look of Angkor Wat | Angkor Wat from a distance |

We spend the evening at the hotel, being way to tired to actually do something else than eating something a drinking a few. Sit and talk for a while, and during a game where we describe each other with a single word I'm amazed how easy it must be to deceive people, since someone uses the word "social" to describe me. Damn, these people can't know me very well, that's for sure! :)



Da capo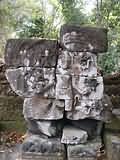 Only thing still standing
up in that empty temple

The next day I sleep a bit longer, so we (me and my driver, the other guys left for Bangkok) don't get on the road until 10 or so. First we drive all the way out to Banteay Srei - 'the citadel of the women' - a temple finely carved in pink stone. The carvings are in very good shape after over 1000 years, the rest of the temple though, wasn't...
We keep on going the whole day, visiting both big temples (with almost no tourists, most of them seem to think one day is enough) and small ones where there is no people at all. Pretty amazing walking around in a temple ruin completly alone, the only sounds you hear is from small animals running around - what I wouldn't give to be able to do that at Angkor Wat for a day!
At one of the temples a young girl working as a guard 'hits' on me, so I sit down and talk for a while. Her english was rather limited, but it was interesting to find out a thing or two about her life. She made $20 a month - less than I plan to spend every day on this journey (well, in Asia anyway). End up giving her a bit of money, which of course was her plan.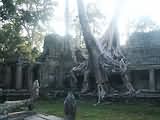 Another temple with problems

While the sun was setting, we got back to Angkor Thom to visit a couple of temples I hadn't seen the day before. Finally (since I had been expecting it for a while, having read about it before) a young guy approached me, starting to guide me around the area. I didn't mind, since it can be nice to give away money to people that at least try to do something for it, but after a while there were three of them, and I didn't have so much spare change on me. Ended up giving them a couple of dollars to share with their friends, and put my last bill on a bottle of water. At the next temple I was once again approached by some kids, this time even younger. I kept on telling them that I didn't have any money, so a guide was not something I could afford. They managed to ignore this of course, and when I left the place they tried to get me to pay them. I showed them my empty wallet and that made them ask for other things, like candy. No, sorry was my reply. How about the opened bottle of water? Damn, I felt bad then. Obviously I handed over the waterbottle and I managed to find a package of gum in my backpack, so they didn't complain, but I wished I had brought a bit more money with me...



Almost saw the sunset anyway

This was the last temple of the day, so we go the big hill (with a temple on it of course - Phnom Bakheng =) where every tourist watches the sunset. We got there pretty late, so I hurried up the hill to be able to see the sunset. It was a bitch to climb it, very steep and people in my way everywhere, so it was a bit silly of me to sit down and talk to a nice english couple that I had met in Laos and Vietnam as soon as I got up there, sweating like a maniac. I managed to miss almost the whole sunset, and I couldn't see Angkor Wat, which I think you're supposed to. Oh well. Walked down again, talking to my friends, that had been there earlier and therefore seen that there is a path up that is about 100 times easier to walk than the one I chose on the way up. Bah. Managed to find my driver in the total chaos around there, and got back to my hotel quite tired after two days of temples and rides on the back of motorbikes. Well worth the pain though...


Posted in: Cambodia , Travel by mdk @ 10:43, November 17, 2003 | TrackBack