« Lao adventures, part 2 | Main | Central Vietnam »
October 14, 2003 : Northern Vietnam



Vietnam is a beautiful country with lovely people, but some are annoying and the traffic is terrible...

First impressions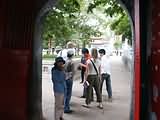 Bryndis and Gauti selling a camera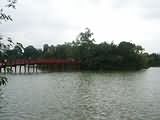 Turtoise island

The first day in Hanoi reveals a few things about this country, some of them a bit suprising. First of all, it is nothing at all like Thailand, which I thought it would be. The culture, the people - everything is different. Another thing is that the traffic here is a lot worse than I even imagined traffic could be - you have to be careful or you will get killed here, that's just the way it is.
There is a lot of people trying to sell you stuff in Vietnam. Kids selling postcards, adults selling books, motorbike and cyclo drivers that don't understand that you prefer to walk and that you really don't want any drugs, and so on... if you just learn to ignore that, the people is really nice. As I wrote in my last entry, the people at my hotel in Hanoi were the best! Even the kids selling stuff were quite fun sometimes, they were really good at english so you could make fun of them. The first day in Hanoi, I walked around town with two
icelandic people, and went out to the turtoise tower, which is on a small island on the lake south of the old quarters. On our way out there, a bunch of kids selling postcards approached us, but we were of course not interested. The icelandic guy tried to sell his camera to them instead, and one of the kids said he would buy it, he had money...
When we got back from the island, the kid offered $500 for the camera - he had photocopied a hundred dollar bill (clearly not his own though).

The old quarters in Hanoi is a funny place to walk around in, because they sell everything on special streets - one for spices, one for tools, another one for plastic furniture...
During the day, we did some shopping on the silk street, this is were i buy my "china shirts" that I'll wear in most pictures I appear in later.




Halong Bay


Halong City harbour
View from one of the caves
Watch the head!

In the evening, we order a tour to Halong Bay. This is one of the most famous places in Vietnam for it's beauty. With thousands of limestone islands and rocks, the scenery is definitely something special. To get there, we took a bus from Hanoi to Halong City. There we switched to a boat and slowly approached the first goal of the day, a big cave. It was very beautiful, but unfortunatly they have added a bit too much lights to the cave, in different colors, and there is even a fountain in there!?
After we walked around in a couple of caves, we go back to the boat and head for Cat Ba island. On our way there, we stop by a fishfarm and also by some locals that took some of us on a boat trip into small lagoons that you had to go through a cave to get to... quite cool. In Cat Ba some of us switched to a slightly bigger boat, because were going to sleep on it, while the others had chosen to go to a hotel instead... wimps. :-)
Staying on the boat was really fun, but there was a lot of rats on it, that you could hear running around making noises... yuck!
We had dinner on the boat and there was of course beer available, so some people became a bit drunk. I was of course not one of them though... Seriously!





| | | |
| --- | --- | --- |
| Halong Bay inhabitants | Bryndis playing with shipdog | Sunset in Halong Bay |
Nice view from a high hill

The next day we go back to Cat Ba and check in to the hotel (we have to sleep in the hotel one night), and then go to another boat and travel around to another side of the island. Then we head out for a lame trek - 3.5km of walking on a paved road, then a really hard climb up a mountain for an hour. Watch the scenery for a few minutes, then back down again. Quite boring, but the view was amazing.


Frank testing his wings

On the way back to the main area of the island, we stop and take a swim. The water is really hot and also very salty, so you can float around without problem... nice!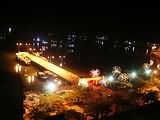 Cat Ba harbor from hotel bar

Cat Ba was a pretty boring place, the only thing you could find was hotels, restaurants and of course a lot of karaoke bars. We spent the night in the bar in our hotel playing pool. Took us two hours to finish a single game... not that impressive :-)




Vietnamese culture and cuisine


Ho Chi Minh I presume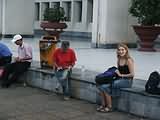 Masa and Petra taking a rest

The third day we don't do anything at all, just sit on a boat back to Halong City, then a bus back to Hanoi... boring. After dinner and some pool, we get back quite late, and I end up talking to a girl from Holland named Petra. The next day I walk around with her and a guy from Japan named Masa. We walk down to the theater and get tickets to one of Vietnams more interesting artforms - the water puppet show. Then we walk all the way to the Ho Chi Minh museum. HCM is the communist guy that ruled the country for a while, and despite his wishes they cremated him and put him in a masoleum. During the winter months he is in Moscow to be recremated or something like that, so I didn't get to see his body. What a shame...
The museum was quite good though, although most of it were pictures of HCM in different places and old letters of his, which I couldn't read...
After a short visit at the market, we decide to take a beer before going back to our hotel - and end up at the same place as the entire hotel staff, that are eating dinner together. They tell us to join them, so we sit down beside them in a corner of the street, and eat Hotpot with them. Hotpot is like fondue, but you put the food in a stock of some kind - really nice! After the dinner, we go back to the hotel and take a shower before heading to the cultural event of the day, the waterpuppet show. It is exactly what it sounds like - puppets, in water. Yes, it is just as bizarre as it sounds. It was really funny though, about ten short stories, and you actually understand most of it, even if the song and talking is in vietnamese...




Loneliness... ?

After four weeks of traveling together, I'm finally separating from Frank and Anders, because they want to go south, and I just don't want to go anywhere at all - I was tired of moving around. So I had to move into another room, this time sharing with a guy from South Africa, Andrew. During the day I don't do much at all, except walk around the city and find a big supermarket - something I just need to find every once in a while, I like to shop a bit of western stuff once in a while. Wasa knackebrod tastes good sometimes, even if it was expensive...
The others leave in the evening, and I say goodbye to them, thinking I'll probarbly catch up with them later - but that doesn't happen. Good for them! :-)


A monument at the museum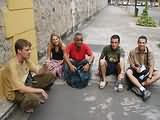 The prison gang

I spend a few more days in Hanoi, mostly walking around, relaxing, drinking a lot of beer and having a good time in general.

One of the last days, I go with a bunch of others to the Prison museum "Hanoi hilton". It was quite interresting, although as all over Vietnam, full of propaganda. Somehow I don't really believe the parts about how nice the communists were to the evil american invaders, feeding them well and giving them nice clothes and stuff. The part about how bad the french were to the vietnamese peasants (communists...) was probarbly true though.


The lake at night

After all that culture, we needed a drink, so we walked down to the lake and had a couple of beers there. We feared that the place would be really expensive, since it was just by the lake, but the prices were better than at the night clubs anyway... Brad, one of the canadian guys taught me a few things about my camera, so I could get decent pictures in the night as well... that came in very handy later actually.


Cheers!
The dude likes cameras... and beer

After a while we head back home to the hotel, where we are met by a drunk Moon, trying to make some sense. Didn't work very well, but we eat their leftovers of hot pot dinner and drink their beer, hopefully she was trying to say it was ok... We make The dude (Noone could remember the poor guys name, so we either called him The dude or Mr Beer... =) go and get us more beer, and while Moon is taking a shower we take care of her duties, handing out keys and answering the phone. Then River arrives with a friend of his - both drunk. The whole staff seems to be wasted, which made it a really interesting evening! Rivers friend Dragon was extremly funny as well, he answered all questions be either yelling YEEES! or NOOO! :-)
Poor Mr Beer had to get on his motorbike and get us more beer all the time, but he didn't mind that much I think, since he got the change and also free beer... We had a really good time, and I'm pretty sure the whole hotel knew that, because we were making a lot of noise to two o clock in the morning...




Damn it...

The next day was our last in Hanoi, and since we had loved the place, we decided to buy the staff at the hotel a small present. It's not so easy deciding on something to give away to people you don't know very well, and in a culture that you don't know at all... Petra had a good idea though, since they are always giving away fruit, so we bought them a beautiful plate to serve fruit on. Hopefully they liked it...

After a shower in the canadian and dutch guys room, we say goodbye to Masa and everyone at the hotel and get on the bus to Hue. It was a really bad ride though... I had eaten Lariam, the guy in front of me threw up after five minutes, I realised I had stolen the key to the guys room (and that's the second time I steal a key from that hotel... =) when I took a shower there, the guy next to me was using half my seat and all my legspace and... well... it was crap anyway, even worse than the 24 hour ride from Ventienne to Hanoi actually. I was tired and it felt as my back was broken, when we finally arrived in Hue the next morning...






Posted in: Travel , Vietnam by mdk @ 8:16, October 14, 2003 | TrackBack