My plans
Planning a trip like this is quite hard. It's difficult to know how long you want to stay in one place, so how to decide the dates for the air tickets? Since this is something you have to do before you leave, you have to ask around for opinions and be good at guessing. Below, you can see my initial plans.
First of all, I am going from my hometown Karlstad to Gothenburg. Then I fly from there to London, to catch a plane to Bangkok. After I've travelled around in the south east of asia, I fly from Bali to Darwin in Australia. My next flight is from Melbourne to Christchurh. When I'm done in New Zealand, I fly from Auckland to Samoa, and from Samoa to Los Angeles, where I will just spend a few days, unless I find some people to rent a car with. From L.A. I'm flying to London, after that I'm not sure if I'm going back home to Sweden, or if I stay in United Kingdom to check out Scotland and Ireland. That depends on how much money I've got left in my pockets by then... most likely none, so I'll have to head home :-)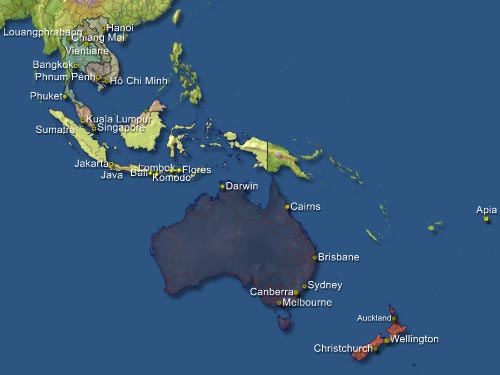 Most of the trip is taking place in south east of asia and oceania, so here that part is, a bit more detailed.

Thailand
My first contact with Asia will be when I'm landing in Bangkok. That will probarbly be interesting, it's a huge city. To get used to the heat and the timezone, I intend to find a beach not too far from Bangkok and spend up to a week there popping drinks with small umbrellas in them, and just relax.
Then I'll go back to Bangkok to find people heading for Chang Mai, a city located in the north western Thailand.

Laos
After I've seen the northern parts of Thailand, I'm heading for the International Friendship Bridge at the Nong Khai border, to get from Thailand to Laos. In Laos, I'll first go to the capital, which is Vientiane. After that I'll probarbly head for Luang Prabang, but I really don't know yet, I'll sort that out when I get there :-)

Vietnam
When I've seen enough of Laos, I'm going to Hanoi. When I've traveled around the north of Vietnam, I'll catch a train heading for Ho Chi Minh City (Saigon), probarbly checking out places like Hué, Nha Trang and Dalat on the way.

Cambodia
From Vietnam I'm going to Cambodia, beginning in Phnom Penh, then going west to Phnom Udong and after that I'll try to find a way to get to Angkor, to see the magnificient temples there.

Back to Thailand...
I'll try to get from Cambodia to Thailand by bus or train, so I can check out the eastern parts of Thailand, like Phanom Rung, before I head back to Bangkok. After a tour around countries like these, I'll probarbly long for some luxuary, so I'll go south and find a nice place to stay for a while to get some energy back. When I start to feel restless, I'll head south to the Malaysia border, checking out the local attractions on my way.

Malaysia
Absolutly no plans for this county yet, except that I want to see the twin towers in Kuala Lumpur.

Singapore
Well, don't have much plans for Singepore either, but since it's just a city, there won't be that much time spent here.

Indonesia
I'll get to Sumatra from Malaysia somehow, and travel around there for a bit, with the hope to see some orangutangs. After that I'm going to Java and the capital Jakarta. I'll try to find a cheap flight to the island Flores, and then go by boat to Komodo, Lombok and finally Bali.

Australia
My next goal is Australia, so I fly from Bali to Darwin. Don't really know what to see here, except the Kakadu national park. I'll try to get to Cairns somehow, to see the Great barrier reaf. Then I'm heading south along the coast, checking out Fraser island and other interesting places on the way... Will probarbly go to Brisbane, Sydney, Canberra, and then Melbourne.

New Zealand
I haven't made any plans for New Zealand yet, going to spend about two months there though, so I'll probarbly have enough time to see most of the two islands.

Samoa
My only plan is to find a cheap hut somewhere where I can live for while and do nothing but relax and enjoy the silence...



This is my current flightplan:

SAS - SK521
From: Landvetter, Gothenburg, SE
To: Heathrow, London, GB
Depart: Wed 17 sep, 16:35
Arrive: Wed 17 sep, 17:40
Duration: 2:05

Qantas - QF2
From: Heathrow, London, GB
To: BK Intl, Bangkok, Thailand
Depart: Wed 17 sep, 22:15
Arrive: Thu 18 sep, 15:55
Duration: 11:40

Qantas - QF132
From: Ngurah Rai, Denpasar Bali, ID
To: Darwin, AUS
Depart: Thu 05 feb, 00:55
Arrive: Thu 05 feb, 05:00
Duration: 2:35

Qantas - QF35
From: Tullamarine, Melbourne, AUS
To: Christchurch, NZ
Depart: Tue 06 apr, 06:25
Arrive: Tue 06 apr, 11:35
Duration: 3:10

Air New Zealand - NZ56
From: Auckland, NZ
To: Faleolo, Apia, Western Samoa
Depart: Tue 01 jun, 15:30
Arrive: Mon 31 May, 21.15
Duration: 4:45

Air New Zealand - NZ56
From: Faleolo, Apia, Western Samoa
To: Los Angeles, US
Depart: Tue 15 jun, 00:45
Arrive: Tue 15 jun, 14:15
Duration: 8:30

Air New Zealand - NZ2
From: Los Angeles, US
To: Heathrow, London, GB
Depart: Fri 18 jun, 15:45
Arrive: Sat 19 jun, 10:10
Duration: 10:25

SAS-SK522
From: Heathrow, London, GB
To: Landvetter, Gothenburg, SE
Depart: Sat 19 jun, 19:20
Arrive: Sat 19 jun, 22:10
Duration: 1:50